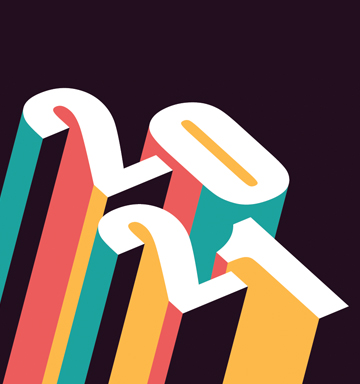 Psychology Tips and News
2021 and Hopeful Expectations
As we say farewell to 2020, do we dare let down our guard, take off our masks in a safe space, with hopeful expectation for the dawning of a new year?
Yes, let's do it! I cheer you on 2021 with great hope!
After all, when all is said and done, we really have but two choices for 2021. Either we choose to be hopeful or we don't. As for me and my house, well, we will choose hope any day. Some may say that's easy for you, you didn't get the coronavirus – and that is true. However, those in my immediate family did. I know what it is like caring for someone with COVID at home, to do all the shopping for aging parents, and practice social distancing by transforming my practice into a virtual telehealth model (at least for the time).
Like so many I made choices to lock down, skip the parties, gatherings with girlfriends and even forgo a milestone marriage celebration (party included) with my husband. I hunkered down, wore my mask, double masks at times, wore rubber gloves and glasses  –  all for the sake of eluding that microscopic enemy that evidently plagues us all.
Looking Back on 2020
What a wild, crazy and unexpected year! We say farewell 2020. Yet, I have to ask – was it all bad? Many will agree a lot of things were horrible, even devastating. We saw cases of COVID sweep the world, for some the tragic end to life came too soon. Nothing more grievous and difficult than saying goodbye to a loved one. I, too, have said goodbye to someone I Iove. The sting of death leaves an embedded wound, of life deeply, intensely missed.
We missed out on a lot this year; loss sadly became the norm for many. The country saw more abuse, an upward spike in mental health cases, and addiction in 2020. It's no wonder with so many shutdowns, unemployment, political upheaval, protests, and thoughts of uncertainty about what lies ahead for our country. People had a hard time sorting through so much at one time.
Yet, I ask again was everything awful?
Let us try and keep things in perspective. Herein, lies the silver lining I found in 2020, perhaps you can relate. More family time. We saw our son more, as he came home from college to remotely study. We engaged in good conversations – discovering the values we have woven into our family tapestry are ones are son embraces, too. Not so bad, if one considers our values good, godly, and decent.
I hung out with my immediate family and strengthened family bonds. Laughed. Experienced joyful days: working on house projects, gardening, reading books and sitting by the fire. Helping people in my practice during these crazy difficult times left me feeling blessed. I know for some, the government provided some financial relief – good, considering the alternative, with so many out of work.
Finding comfort
I binged on more Netflix this past year than all previous years combined. Eating more than I should have, my pants got tight. While many in the country were baking sourdough bread, my husband learned how to bake blueberry, apple and blackberry pies. Never did I imagine my husband in the kitchen baking pies. Curious. Delicious, I certainly had my fill of sugary delights. Some rode their Pelotons, lifted weights and got lean. Yet, many more overindulged trying to fill the void brought on by uncertainty and confusion around COVID and politics gone wild.
We not only found comfort in cookie jars, we also discovered Amazon big time. How easy shopping became. Awe, it felt good to buy, dopamine surges. And while many Americans were finding comfort in the push of a button, Jeff Bezos holds his place as one of the world's wealthiest persons. I believe he is in 2nd place now, right behind Elon Musk. What do you do with over a hundred billion dollars? Or is it two hundred? Fact check please. Big Tech got bigger. Social media became skewed and really good at censoring. While many were watching cat videos, YouTube and TikTok, I retreated and simply took a social media break. That decision came fairly easy after I watched The Social Dilemma.
In some ways, if I am honest it felt good to slow down in 2020. I had time to ponder and be thankful for what I have. To reflect on things that really matter to me like friends, family, a husband who loves me. It was nice to catch my breath and breathe clean air in Los Angeles. It was calming to have extra space in my brain to think, to not have to rush, and not sit in traffic. I enjoyed being still, quiet. To feel my heartbeat.
Looking Ahead
Now, we look ahead wondering with normal trepidation what 2021 may be like. Will the pandemic come to an end? We certainly have hope with a vaccine. Some said it would take a miracle to have it by now, but President Trump's Operation Warp Speed made it happen. We have reason to believe that everyone who wants the vaccine will be able to get it. I am hopeful we will get through this pandemic soon.
What about our economy? So many businesses have been hit hard, closed down. Sad to say, so many have suffered are still suffering, even as I write. Yet, I do believe we will get through this. God willing, we will recover from this economic crisis. We are America. If you've studied our country's history, you know we are America strong. We have been through much and we have prevailed. Will it be easy? Will it be overnight? Probably not, but we will get through it.
Whatever your political views may be, whether you are supportive of the election outcome or not, we must remember – all we can control is our attitude and our right to fight for life, liberty and the pursuit of happiness. What will my attitude be? How will I respond? With dignity, grace, and a courageous spirit; believing the best is yet to come. May God bless the United States!
4 Tips for a Hopeful New Year
Attitude Adjustment
Take inventory of your choices and how you want to respond to the things that have transpired this past year. January represents a month to reset. Make a list of the things you want to happen, adjust your attitude, and make your plans.
Create Margin in Your Plans
As we are entering into a new year, keep in mind plans may need to be adjusted as uncertainty remains. We can still make plans, be hopeful, and make adjustments along the way. Although your plans may veer, don't dismay. Just take a breath, remember to trust God and reset.
Take Care of Those Around You
Notice how you can help those around you. When you get outside of your head and help others, you can improve your mood, lowering your stress and anxiety. Take note of those you can help, then let that be your aim.
Choose to Hope
Keep in mind you have a lot of power in your life simply by the way you think and what you believe. You can choose to be hopeful or not. It is up to you. As for me, well, I guess you know by now what I am choosing.
With a new year set to sail, listen… hope whispers, the best is yet to come.