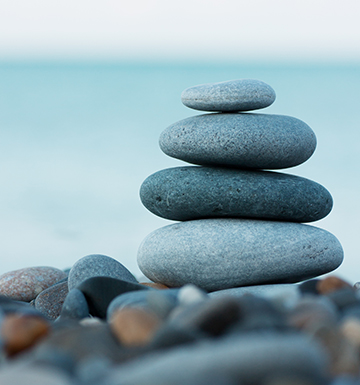 Anxiety and Stress
5 Tips to Achieve Work Life Balance
What is work-life balance?
It is the relationship and prioritization between your career and your home and family life, and how well you manage your responsibilities and relationships to achieve harmony. It may be helpful to think of it as work-life integration, because finding enough time in a week to carve out meaningful life experiences and also manage high-priority work can be challenging.
When you are out of balance, and one side takes too much energy, the resulting stress can negatively impact your personal relationships.
Can I really reach a healthy balance?
Achieving a healthy work-life balance may seem elusive for many; however, it can be done. Keep in mind that what works for you now will inevitably change over time, as your life and priorities change. Maintaining flexibility and patience is key.
Attaining this balance will require that you examine your ideas and assumptions. Learn to exercise discipline and create guidelines that allow you to be more in control of your life. Set realistic expectations for yourself and communicate them to important people in your life.
Achieving and maintaining a healthy work-life balance can improve your mental wellbeing, health, and productivity.
Here are 5 tips to help with work-life balance:
Tip #1 Prioritize
Determining who and what you value most is paramount. Keep in mind the season of life you are in. For example, being single, married, or married with children can change your work-life landscape. Take for example, if you are raising children. The demands of their respective developmental stages will need to be considered.
Where you are in your career also needs to be assessed. An individual embarking on a new career will look very different than someone who is seasoned in their career in regard to time and management. The role, tasks, and productivity may largely vary.
Once you determine who and what is important in this season of life, set aside time and goals around these priorities. The right equilibrium is about deciding what is most important to you and committing and focusing on those as your top priorities.
Tip #2 Organize Your Time
Organizing your time so that you are most efficient and productive at work is essential. It can have a direct impact on your family life. Make certain you are working on the most important tasks, limit distractions, and take breaks to refresh. If you don't already, use a scheduler to manage your time. This will help you stay focused. Here are a couple ideas to get you going:
Plan for time with your family; this is key. When you have a busy life this makes a difference. If you want to be home in time for dinner, staying organized and planning will make it easier for you to go home at a reasonable time.
Leaving time to be inspired is desirable. If you have a commute from the office, put on inspiring podcasts, audio books, or play your favorite music to unwind from the day. Keep in mind the importance of using your time wisely is what counts.
Tip #3 Manage your Stress
One of the benefits of a healthy work-life balance is reduced stress at home and at work. Stress is your body's way of dealing with an internal or external demand or threat. Sometimes it manifests as difficulty concentrating, interrupting our focus, causing worry, or racing thoughts. It may look like moodiness, irritability, agitation, or feeling overwhelmed. Stress can also show up as headaches, difficulty sleeping, aches and pains, or chest pain. Stress may drive you to overeat, procrastinate, use drugs, alcohol and cigarettes. Here are some suggestions when you are feeling stressed:
Plan ahead.
Use "TO DO" lists.
Schedule time to complete tasks.
Avoid fatigue which impacts your productivity, and interpersonal relationships.
Get enough sleep.
Keep your sense of humor.
Learn to say "No".
Examine your ideas and assumptions.
Tip #4 Self-Care
An essential tip for people who struggle with work-life balance is to practice self-care. Self-care is underrated. It is nearly impossible to present your best self at home or in the office when you are not taking care of yourself. Here are some suggestions to keep you on track:
Schedule downtime.
Protect your private time.
Set realistic goals.
Take care of your mind and body.
Have compassion for yourself.
Be patient with yourself.
Practice relaxation or meditation.
Eat well and sleep well.
Set aside time for exercise or to pursue activities you enjoy.
Make time for fun and relaxation.
Establish and nurture friendships for a good support system.
Keep in mind this simple strategy, "If you want to change the world, start off by making your bed (McRaven, 2014)." It is an easy way to get the feeling of pride and accomplishment.
Tip #5 Keep Perspective
Life can easily leave us feeling overwhelmed if we let it. Taking control of your thought life and keeping perspective can make all the difference in your mental health and wellbeing.
Choose to develop a positive attitude.
Worry less about things out of your control.
Practice mindfulness and gratitude.
Allow yourself to accept what is most important to you, not what others expect of you, or what you have been conditioned to want.
Don't let other people tell you what you should be doing, even if they think they are helping you.
Set goals but stay flexible.
Ask for help when you need it.
Think positively about yourself and your achievements.
Realize that happiness at home means happiness at work.
Learning and integrating these tips can help you make room in your life to be your best self. When you feel your work and life are out of balance and you need some help, contact Dr. Angela Bisignano in Palos Verdes, CA.
---
Reference
McRaven, W.H. (2014, May 17). University of Texas at Austin Commencement Address. Retrieved 2/26/18 https://www.youtube.com/watch?v=U6OoCaGsz94