5 Tips to Brighten Your Day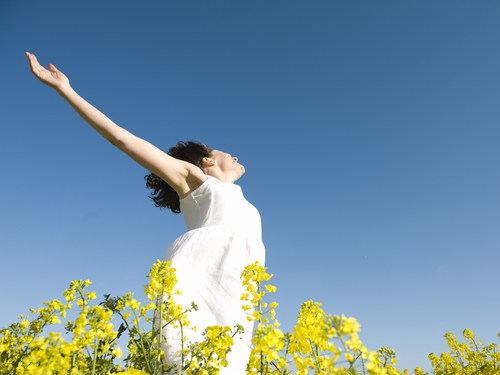 Starting your day off well is one of the best things you can do, especially if you are experiencing challenging times. So before your feet hit the floor decide you are taking charge of the day. Grab your cup of coffee, tea, or juice and let us get started.
1. Prayer and Meditation.
Starting the day with prayer and/ or meditation helps to set the tone and connects you to God. Reading the Bible or another inspirational book can help to center you and keep you grounded. I really notice the difference in my day when I don't start in this way. The day feels off to me. You may want to try this for a month and see how your days go.
2. Cultivate a Heart of Gratitude.
Starting the day off by being thankful for what you have is important. Often people are more preoccupied with the hardships and what they don't have that they sometimes lose sight of all the good things they do have. Count your blessings, not the hardships. Try being thankful for your family, friends, your health, or that you have a roof over your head. There are hundreds of things we can be thankful for if we take the time to ponder them. Every breath we take is a gift from God.
3. Keep Problems in Perspective.
Learning to navigate challenging times well is key. If you're dealing with difficulties, try taking a little time in the morning and begin strategizing about what you can do. You may want to write some notes to yourself, make a mental list, or keep a journal to help you process your thoughts and feelings.
If your problems are too difficult for you to manage on your own, you may want to get some assistance. Try enlisting the help of colleagues, friends, or professionals. Keep in mind you don't need to solve all your problems now; however, planning and keeping things in perspective will help.
4. Adjust Your Attitude.
You can choose to be an optimist or a pessimist regarding your day and your circumstances; however, the optimist will always have the better day. Try not to let the obstacles in your life cloud or overwhelm your thoughts. Try focusing on the things that are good. I like to use what Paul, the apostle, writes in the Bible as a guide.
Whatever is true, whatever is noble, whatever is right, whatever is pure, whatever is lovely, whatever is admirable—if anything is excellent or praiseworthy—think about such things. Whatever you have learned or received or heard from me, or seen in me—put it into practice. And the God of peace will be with you. Phil. 4:8-9
5. Be a Source of Encouragement.
Make it a point to be a source of encouragement for someone today. Be on the look out for people you can help. Whether it is through a kind word, a helpful gesture, or some other source of encouragement. Realize you are not alone; many are going through challenging times these days. A thoughtful word or deed can make all the difference for someone. It also feels really good to help someone else.