7 Reasons to Be Hopeful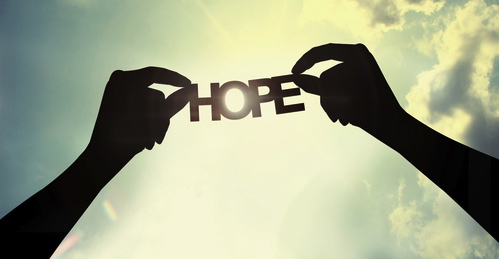 Whether you are experiencing good times or challenging ones, many reasons exist to keep us hopeful. Having hope means wanting something to happen or be true and think that it could happen or be true (MerriamWebster.com). Some wonderful words to keep in mind written by Victor Hugo continue to inspire us today,
Hope is the word which God has written on the brow of every man. 
Here are 7 inspirations for keeping you hopeful.
1. God has a plan and purpose for your life.
You were not placed on this earth as a random occurrence. Your life has meaning and God intends for you to be here. He has a plan. Hope in Him.
For I know the thoughts I think toward you, says the Lord, thoughts of peace and not evil, to give you a future and a hope. ~Jeremiah 29:11
2. God created you as His masterpiece.
He views you as a unique beautiful being. He created you with gifts and talents. He has given you a life to create a wonderful reflection of God on earth. Hope in Him.
For we are His workmanship, created in Christ Jesus for good works, which God prepared beforehand that we should walk in them. ~Ephesians 2:10
3. God is able to do great things through your life.
Never limit yourself by your circumstances or what appear to be your limitations. God is all powerful. He is able to do the impossible; the unimaginable. Hope in Him.
Now to Him who is able to do exceedingly abundantly above all that we ask or think, according to the power that works in us. ~Ephesians 3:20
4. God wants to give you the desires of your heart.
I often think that the desires of our hearts may be part of God's greater desires. Perhaps He placed them there that we would live them out. Pay attention to that which inspires your heart. Hope in Him.
Delight yourself in God, and He shall give you the desires of your heart. Commit your way to the Lord, trust also in Him, and He shall bring it to pass. ~Psalm 37:4
5. God wants you to experience joy in your life.
He wants you to stay close to Him and experience His supernatural joy; one that is everlasting. God doesn't want you living a dismal joyless life. This was never His intention. He wants you to be content, full of peace and joy. Hope in Him.
In His presence there is fullness of joy. ~Psalm 16:11
6. God wants to heal your heart.
If someone has hurt you or circumstances have disappointed you, know that God wants to heal your heart. Whatever you may be feeling or thinking, hope in Him.
He heals the broken hearted and binds up their wounds. ~Psalm 147.3
7. God loves you.
God cares about you. He adores you. One of the best things to know in life is that no matter what happens, God loves us. He promises that He will never leave us or forsake Him. We can always depend on His unfailing love. Hope in Him.
For I am persuaded that neither death nor life, nor angels or principalities nor powers, nor things present nor things to come, nor height nor depth, nor any other created thing, shall be able to separate us from the love of God which is in Christ Jesus our Lord. ~Romans 8:37-39