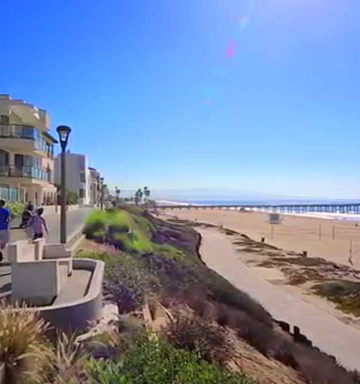 Love and Relationships
Spending Quality Time with Your Loved One in Manhattan Beach
Every relationship needs time together to grow, strengthen friendship and deepen love. Daily routines can cause many of us to take our partner for granted, especially these days with the pandemic. Whether it's the uncertainty of Covid, our hectic careers, virtual meetings, home schooling our children, or something else, quality time for our loved one often falls to the waste side.
Perhaps now is a good time to check in with your partner and see if you might find some quality time for just the two of you. Merely expressing your desire to intentionally spend time together can be meaningful and the start to making it happen. It can also speak volumes to your spouse that you care, and you desire them. Creating quality time together gives you space to focus exclusively on one another which can strengthen your relationship.
Dr. Angela Bisignano, a clinical psychologist specializing in relationships and couples therapy in Manhattan Beach, recommends that you schedule quality time together at minimum once a week.
The importance of quality time:
deepens your emotional and physical connection
creates greater intimacy and relationship wellbeing
helps to create a culture of fondness and admiration
creates space for casual, meaningful and deep conversations
fosters a culture of appreciation and respect for one another
quality time together makes your spouse feel loved and valued
builds memories by having fun with your partner
strengthens your friendship
helps you stay current with your partner
helps to diffuse stress
having fun is restorative to your relationship
Manhattan Beach is a charming seaside community. It is known for its pristine beaches, paved walkways and nature trails for walking and biking.
Manhattan Beach top date spots:
Take a walk on the strand. At Manhattan Beach Boulevard and Ocean Drive you can walk along a lovely beach sidewalk. Or better yet, take off your shoes and walk on the sand.
Stroll along the Manhattan Beach Pier, one of the oldest concrete piers on the west coast with panoramic ocean views. Visit the Manhattan Beach Aquarium at the end of the pier (the Roundhouse Marine Studies Lab and Aquarium) to learn about local marine life and their habitats.
Have a picnic at Live Oak Park at 1901 North Valley Drive or on the beach at Bruce's Beach at 2600 Highland Avenue
Rent a bike and ride along the beach to Hermosa and back. One Ebike rental is called Manhattan Beach Ebike Rentals at 3616 Highland Avenue. Or for regular bike rentals try Hermosa Cyclery at 20 13th Street.
Check out the Manhattan Beach Farmer's Market to find local produce, jams, preserves and more. It is tucked away behind the Metlox Plaza at 451 Manhattan Beach Boulevard. Also, food trucks deliver the best of local cuisine!
Dine at one of over sixty restaurants within in 0.3 miles of the beach, some are award winning ocean front restaurants with breathtaking views. The Strand House is highly recommended. Check it out at 117 Manhattan Beach Boulevard.
Shop downtown Manhattan Beach, with views of the ocean, and streets lined with boutiques, shops, art galleries, delis, furniture stores, coffee shops, bakeries and more. One local boutique is LuLu's Nouvelle at 451 Manhattan Beach Boulevard in the Metlox.
Stop at the Art Center which has lots of beautiful art and other items. It is small, but has great exhibits. For more arts go to the Riley Arts Gallery which is a showcase for local artists and a great gallery. It is located at 1007 Manhattan Avenue.
Life is short. Take time to play, laugh and love together. Live your best life together!